Guitarist Greg Diamond Lives on 'Avenida Graham,' Zoho Music [REVIEW]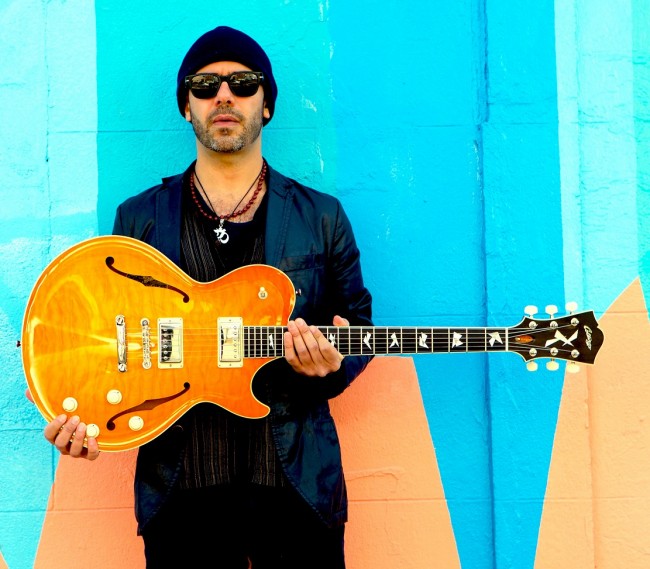 In Brooklyn, Graham Avenue is also known as Avenue of Puerto Rico. It is here where Greg Diamond lived from 2002 to 2013. Avenida Graham (Zoho Music) distills the sounds he heard growing up: from Willie Colon blasting out of windows to Hector Lavoe thumping out of car speakers. His Jewish New Yorker dad had married a Columbian woman so Diamond spent the two years directly after high school in South America soaking up cumbia music. It's all here.
A self-confessed "hybrid-musician," the guitarist/composer, now in Queens NY, leads his six mates on a whirlwind nine-track Latin tour incorporating Peruvian festejo, Dominican merengue and bachata and Puerto Rican plena and bomba rhythms. To do this right, you have to have just the right musicians.
The 7:58 "Synesthesia" kicks it all off like a rotating backyard whirligig, changing tempo, charged by the incessant pop of drummer Henry Cole and percussionist Mauricio Herrera. It's a real grooooooooove and when soprano sax man Stacy Dillard gets down with Diamond by trading solos, that groove is definitely heightened.
"Rastros" follows with its Argentine tango motif but only after Diamond displays some complex acoustic fingerpicking. When tenor sax man Seamus Blake enters, things get dramatic quick. Diamond's solo is based upon an etude he once wrote so you can throw classical into the multi-cultural mix.
You can't live in Columbia for two years without reading 100 Years of Solitude by Gabriel Garcia Marquez. Diamond based "El Coronel" on a character from that book, fusing it with a Cuban folk strain known as son montuno.
As the pieces flow into a cohesive whole, everybody gets their licks in, including pianist Mike Eckroth and bassist Peter Slavov. Diamond keeps it upbeat, heavily percussive and highly entertaining. His command of Afro-Caribbean motifs and Argentine milonga keeps things percolating right up to the closing 8:32 "Motion Suite," which took him two years to write.
Avenida Graham is a wholly satisfying musical travelogue, one that makes the listener want to explore the derivation of all of these enticing Latin sub-genres.
TagsGreg Diamond, Zoho Music, REVIEW, Willie Colon