The 'Absurdist Theater" of Guitarist Gene Ess on SIMP Records Makes One Think [REVIEW]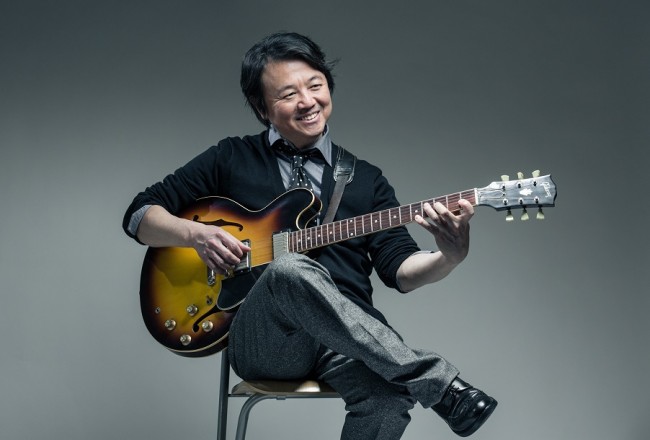 Born in Tokyo, raised in Okinawa, guitarist/composer Gene Ess won a scholarship to Berklee in Boston, graduated in '90, moved to New York in '91, joined The Rashied Ali Quintet and the rest is ongoing. Last year, with his Fractal Attraction band, Eternal Monomyth explored the hero's quest as first proposed by Carl Jung. Ess is something of a philosopher and his new Absurdist Theater (SIMP) uses his all-original chamber music to approximate the theater of the absurd as first written about by such free thinkers as Kierkegaard and Schopenhauer.
Camus took absurdism to popular heights with his Sisyphus myth of the dude forever fated to roll the rock up the hill: the protagonist eternally doomed to a state of nothingness. Camus maintains Sisyphus is content with his lot in life. How so? "In the absence of meaning, absurdism teaches freedom," writes Travis Rogers, Jr. in his illuminating liner notes. Ess takes off from that point. (When can you honestly say that an album's liner notes made the listening experience better? It does here.)
We are introduced to vocalist Thana Alexa on opener "Out Of The Ashes" as pianist Manuel Valera sustains a counterpoint to Gene's guitar. "Circe's Compassion" is for the goddess of enchantment who, after she defeats Odysseus, guides him on his journey. "Jade Stones" help us see ourselves for who we really are. "Kunui" is a Ninja weapon. "Torii" is a passageway into a shrine while "Forkball" is a time-out from all the hooey in tribute to Ornette Coleman. "Dejala Que Pase" was inspired when Ess spent time in Spain." Closer "Upward and Onward" has some nifty parting licks from bassist Yasushi Nakamura while drummer Clarence Penn rolls it ever onward as he does throughout, keeping things kinetic.
Had there been no notes, and one had no idea of all these philosophical conundrums, the music herein is still more than worthy to carry this hour purely on the basis of sound alone. Check it out in the clip below and see for yourself.
TagsGene Ess, REVIEW, SIMP Records, Rashied Ali