Banjo Nickaru & Western Scooches are the 'Very Next Thing,' On The Bol Records [REVIEW]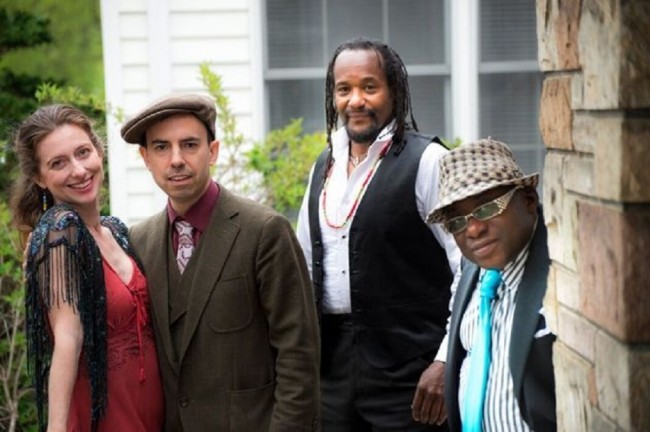 The only negative here is its length. At 34:42, it's over way too soon. This slice of sumptuousness, replete with oodles of Prohibition Era cakewalks, spans the gamut from jazzbo flapper dance tunes and traditional folk hoots'n'hollers to Crescent City craziness, Fats Waller (Ain't Misbehavin'"), gospel ("This Little Light Of Mine"), Elizabeth Cotton ("Freight Train") and the kind of honeyed originals that makes one move and tickles one pink. This, then, is the Very Next Thing (On The Bol Records) by Banjo Nickaru & Western Scooches.
Nick Russo--who hatched this plot from his Hot Jazz Jumpers band--is the banjo player who gives it that Tin Pan Alley sound. Betina Hershey adds guitar and the kind of voice one doesn't soon forget. Dr. David Pleasant blows some harmonica and provides the kind of percussion that originated in Africa called Gullah-Geechee (no drums). He uses a set of tambourines as well as his hands, forearms, feet and entire body to make percussive noises. Miles Griffith uses his mouth much like a hip-hop beat-box.
You haven't heard "When The Red Red Robin Comes Bob Bob Bobbin' Along" until you've heard these Scooches do it up right. In their hands, the 1926 cornball ode sounds fresh and vital again. Ditto for 1939's "You Are My Sunshine" and that ever-lovin' 1925 "Sweet Georgia Brown" ("two left feet but oh so sweet"). The New Orleans anthem of "Jock-A-Mo" is so catchy (otherwise known as "Iko Iko") that you won't be able to get it out of your head.
This hotter-than-hot and oh-so-hip New York City quartet is smart enough to add piano, clarinet, trombone, trumpet and piano just to spice up the gumbo depending upon the track. I'm loving this! It's so nice, I played it twice, thus, it's a much more appealing 69:24.
TagsBanjo Nickaru & Western Scooches, On The Bol Records, REVIEW, Fats Waller